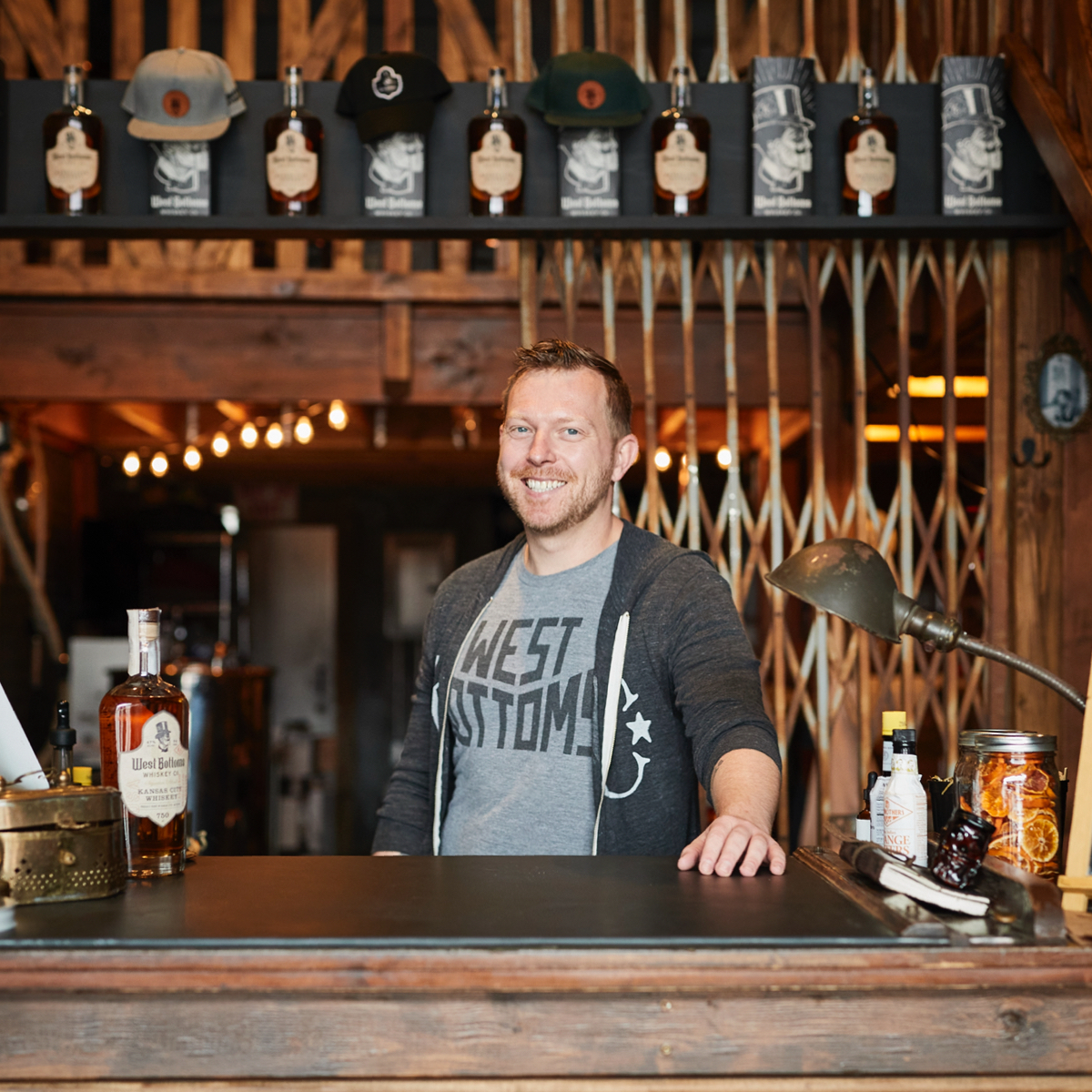 Founder & Master Distiller
West Bottoms Whiskey Co.
West Bottoms Whiskey Co. is a whiskey-exclusive distillery inspired by the spirit of innovation, optimism and industrialization found in the historic West Bottoms district of Kansas City. We are constantly innovating with new distilling, aging, and blending techniques to craft the ever-more-perfect American whiskey.
Our Kansas City Whiskey is available in over 300 retail locations in Missouri and Kansas, and 0ur Distillery & Cocktail Parlor are open to the public with distillery tours and group reservations available. You can find our whiskey in hundreds of retail locations in Missouri & Kansas, visit our Distribution page for more information.
About West Bottoms Whiskey Co.
A brief history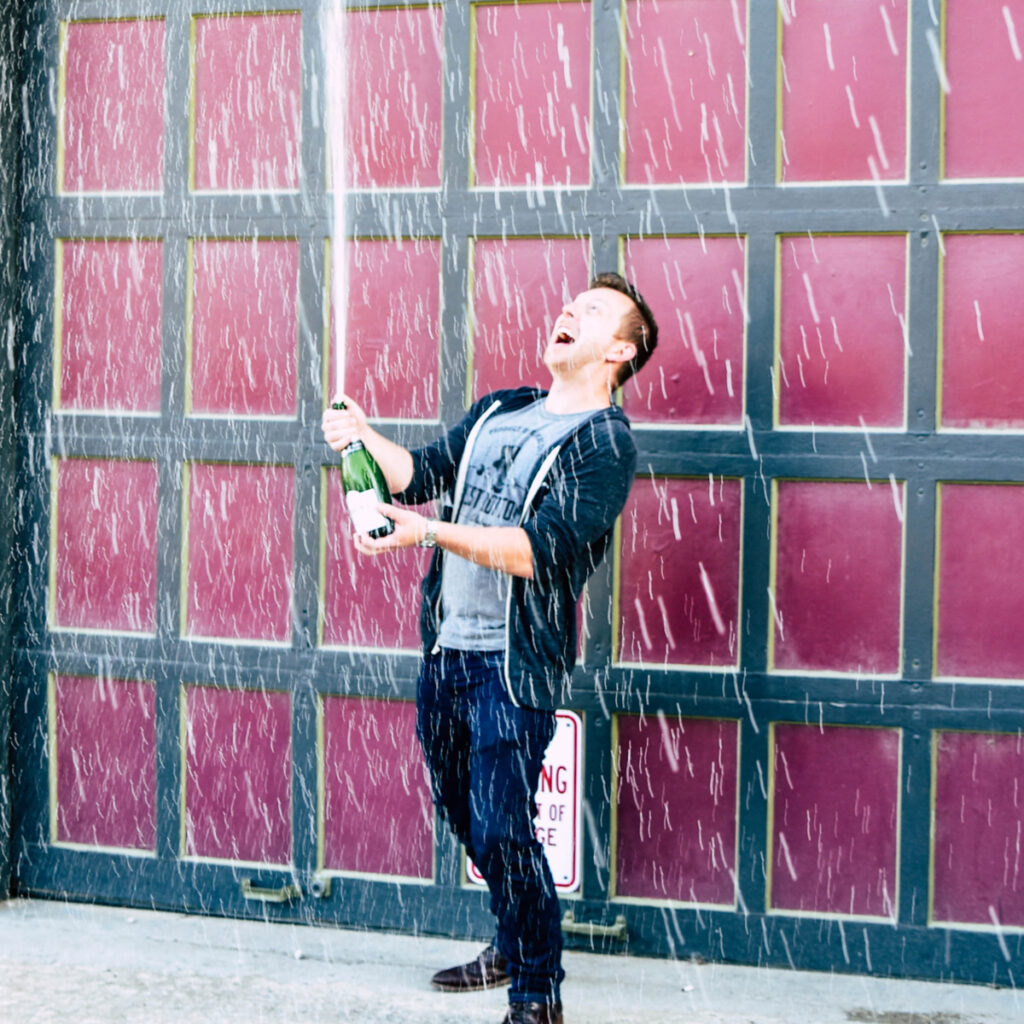 From Humble Beginnings
After 10 years of distilling – and a few failed years of home-brewing before that – our Master Distiller, Alex Lindsey, decided it was time to get serious about opening a distillery.
Doing so in the middle of a global pandemic wasn't really part of the plan, but thanks to great product, a couple ambitious business partners, and lots of help from friends and family, West Bottoms Whiskey Co. opened its doors in January 2021.
with help from our friends
As West Bottoms Whiskey Co. started to take form, Alex turned to friends old and new to help get the business off the ground. That help came in many ways, including countless nights at the distillery cleaning, building, and organizing for the distillery and parlor that would come.
For friends-turned-business partners Danny Faught, Michael Hopkins, Alex Lindsey, and Eric Morey (left to right), things got a little more serious. Working together, West Bottoms Whiskey Co. has become a leader in Kansas City and Missouri craft distilling.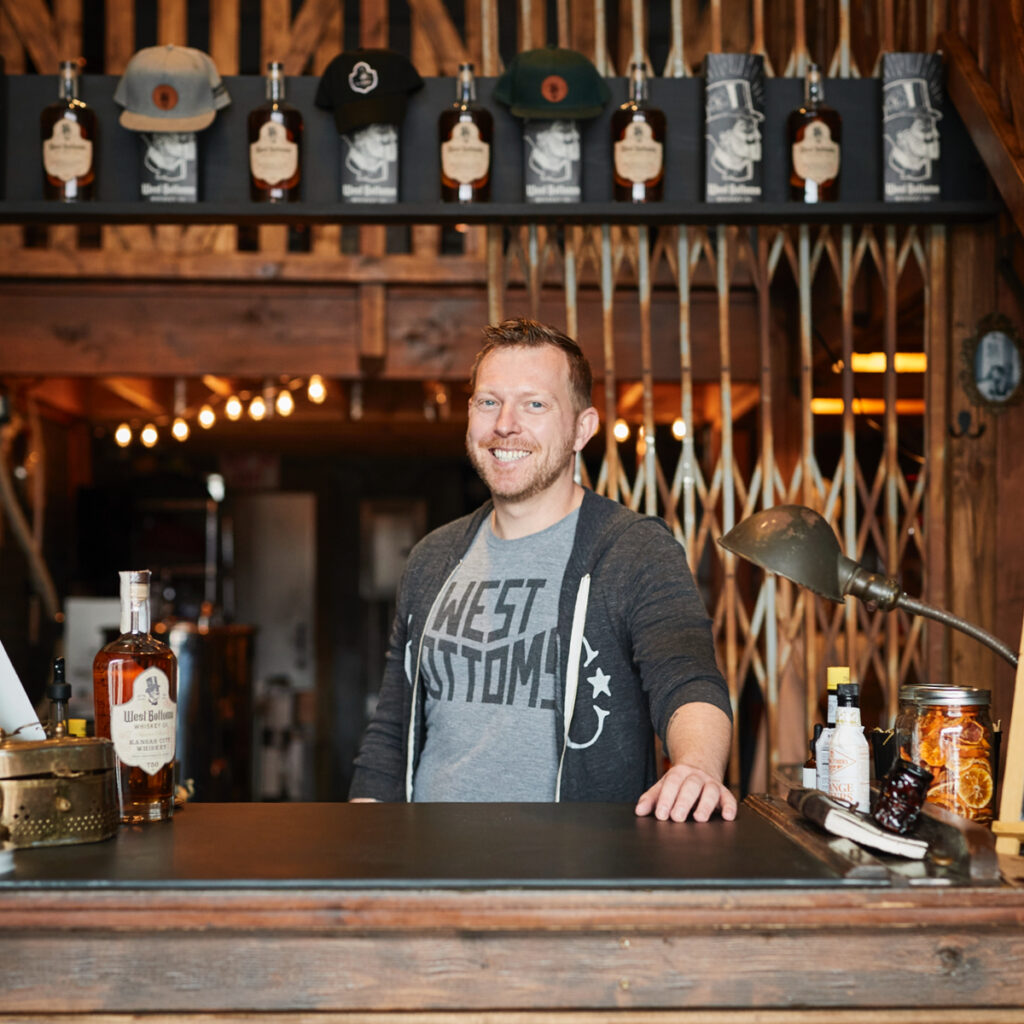 At home in the West Bottoms
There was a time when every man, woman, child, livestock, and product had to pass through the West Bottoms to get in or out of Kansas City, making it the center of commerce, manufacturing, agriculture, and transportation.
Alex chose the West Bottoms because it represents the brave, industrious, and innovative people that literally built Kansas City. It's in this spirit that he is constantly evolving and trying new distilling, aging, and blending techniques to create the ever-more-perfect American Whiskey.
redefining craft distilling
In the spirit and tradition of the West Bottoms, Alex is constantly distilling with new grains and techniques, aging and re-aging with different barrels, and blending different whiskeys to create the ever-more-perfect American Whiskey and redefining craft distilling in Missouri.
For our patrons, the result is 3-4 special releases each year of new and experimental craft whiskeys designed to compliment and challenge traditional whiskey palettes and attract new drinkers to the world of whiskey.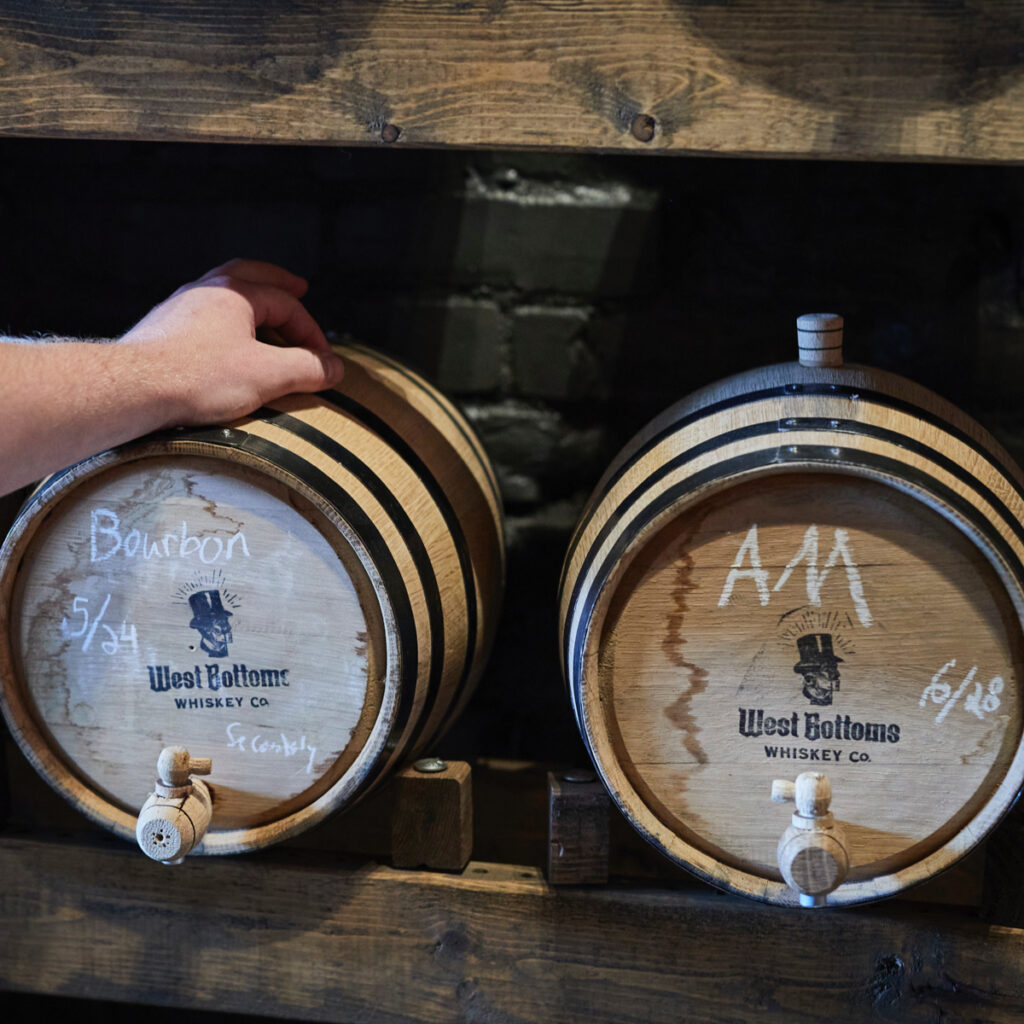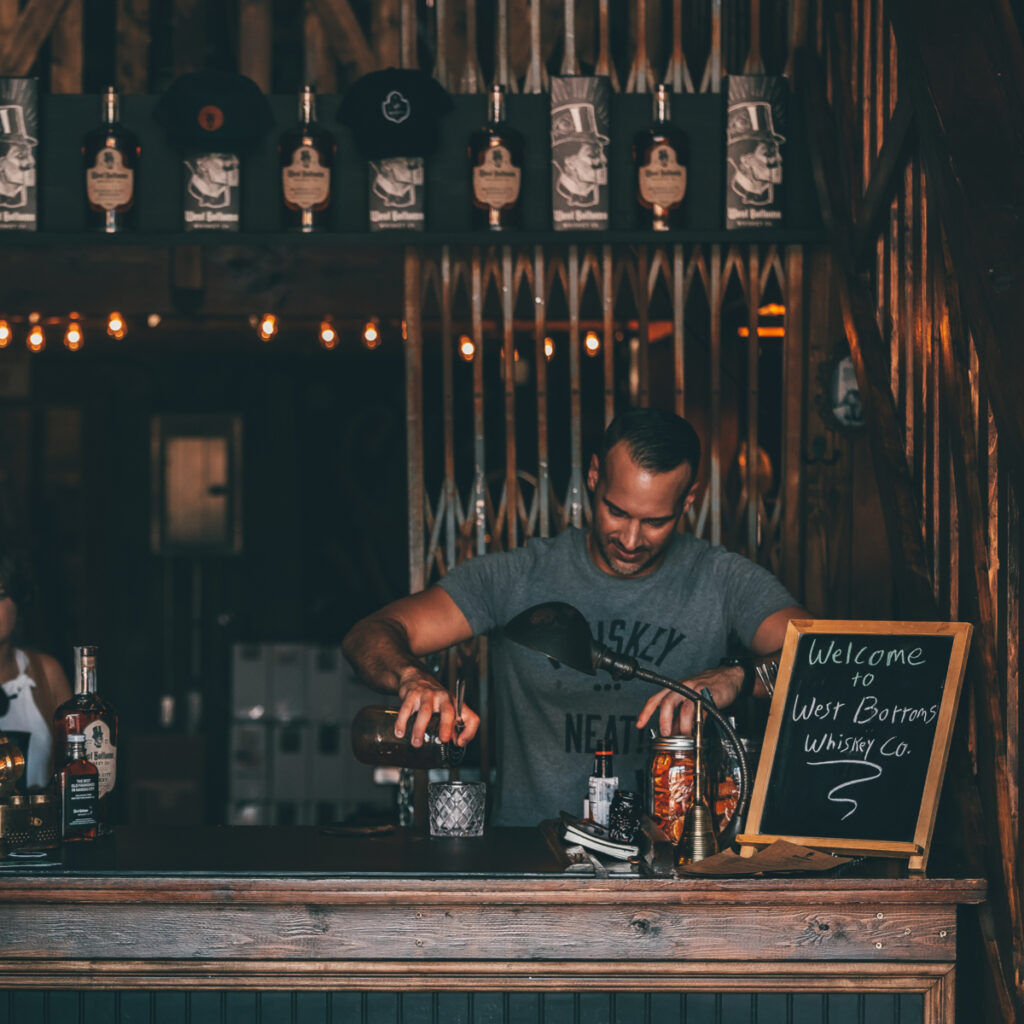 crafting whiskey cocktails
We love our whiskeys #WHISKEYNEAT, but we also love experimenting with traditional and non-traditional whiskey cocktails in our on-site Cocktail Parlor.
From the beginning, craft whiskey cocktails have been an important part of our story as a way to introduce people to our products to new whiskey drinkers. You can find our current menu online or visit the Cocktail Parlor in person for special and seasonal libations.
investing in our community
No one succeeds in a bubble, it takes friends, family, and the larger community to help any business survive – let alone thrive. That's why we're constantly looking for ways to invest in the community that supports us.
West Bottoms Whiskey Co. is proud to invest in partnerships and memberships across the Craft Distilling, Kansas City, and Midwest communities.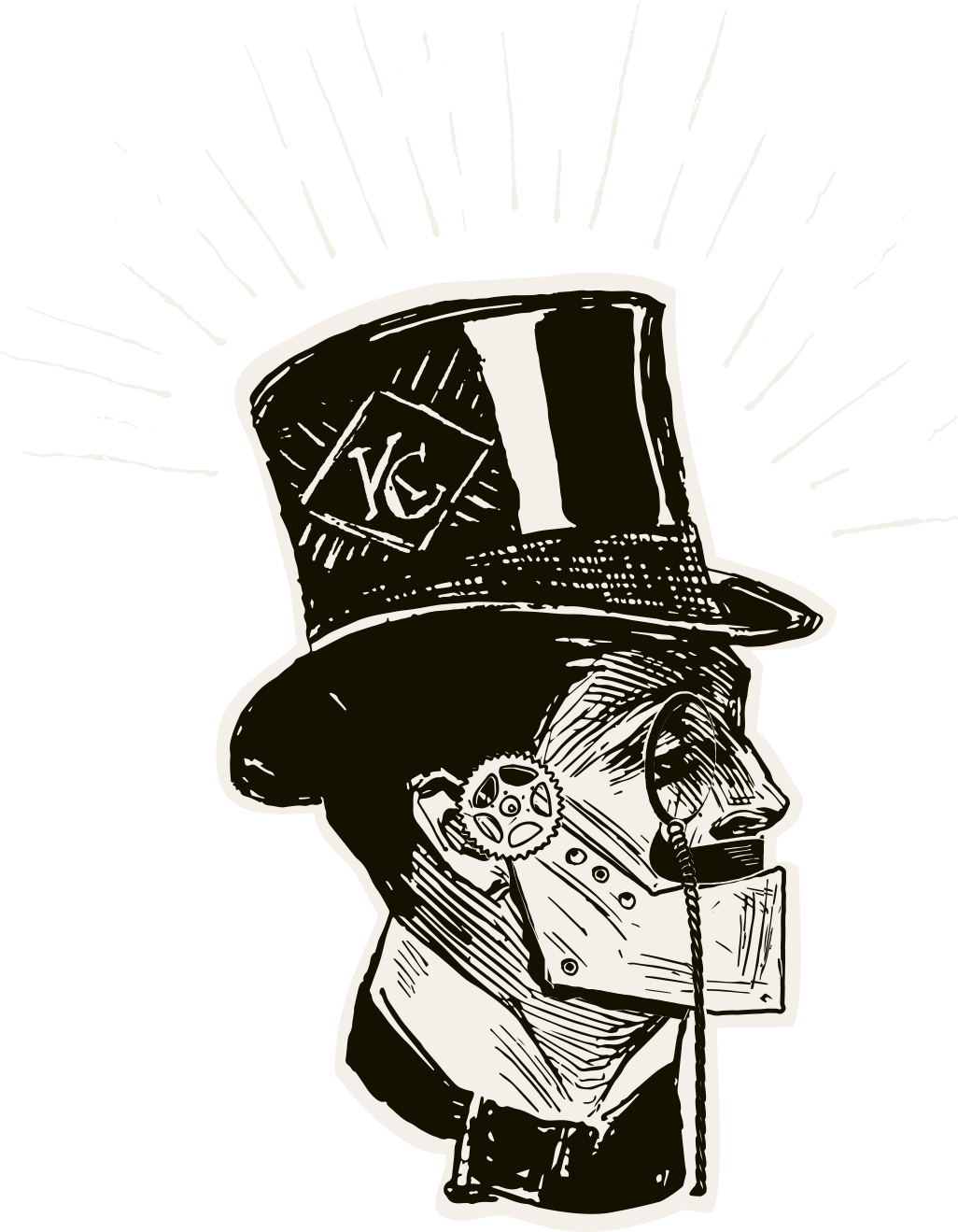 who is murdock?
Industrious, hard-working, self-determined – yet classically refined and distinguished. Murdock is the embodiment of everything we do and everything we are. He comes from a time that represents optimism, discovery, and progress – the rise of the working class and diversity of experience and identity.
Murdock is our beacon on excellence, and we hope every whiskey we make lives up to the Murdock name.